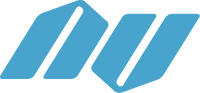 OVERVIEW
In a modern world with smart phones, washing machines and ATMs making life simpler, why is manually pumping a kite still an expected chore? The point of your kite and inflatables is to go on the water and have fun!
Let AVRO pump do all the work with inflating your kite.
Ultra Light Weight
Made of polymers, composites and a lithium battery pack, the AVRO pump is the compact version of an air compressor. The pump weighs an incredible 2.4 pounds (1.1 kg)! In comparison a High Flow Manual pump weighs 2.2 pounds. Similar in weight yet the AVRO pump does all the work for you. The AVRO pump is 3 times more compact in size making travel easier.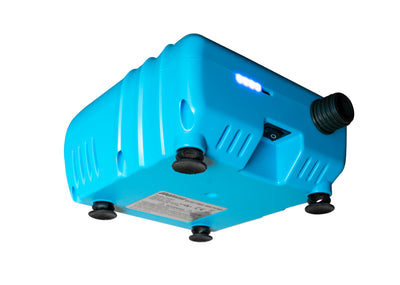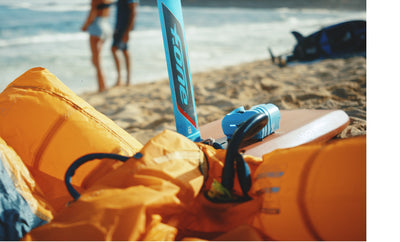 Auto-Stop Technology
With the push of a button you can start your AVRO pump and let it inflate to your pre-selected pressure level (7 to 8 PSI for most kites). Your kite will be inflating while you can be drawing your bar lines or putting on your harness. Once the pre-selected pressure is reached the AVRO pump will automatically stop thanks to the built-in pressure sensor. No longer will you have to depend on inconsistent pressure gauges on manual pumps or stop every few pumps to give your kite a "feel" or "ping".
All Day Battery
The AVRO pump comes with built-in lithium battery power technology. This light weight battery combined with the high efficiency pump will inflate a 10m kite (Core GTS at Normal Temperature & Pressure) more than 15 times on a single charge! This way you can share the AVRO pump with a buddy and still have plenty power to inflate your larger kites when the wind drops.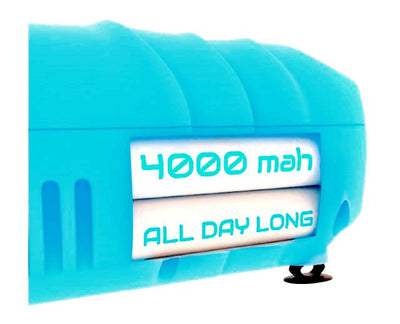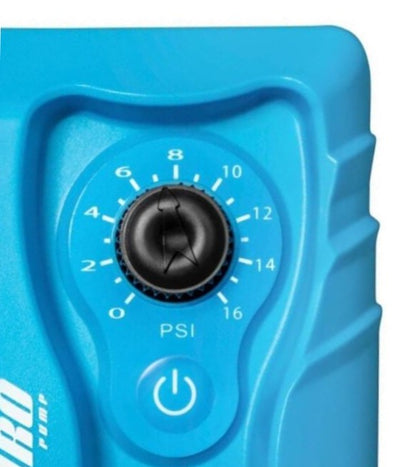 Maximum Pressure
The AVRO pump can be used on a range of inflatables with an easy to adjust knob which limits maximum pressure output in PSI (pounds per square inch). Once the maximum pressure level is reached the pump automatically stops. This safety feature ensures you do not over inflate your kite or other inflatables. There is a range from 0 to 16 PSI providing a broad range of applications. For example an air mattress would be fully inflated at 1 PSI whereas a kite would be fully inflated at 8 PSI. You can even inflate your SUP board up to 16 PSI on those days without wind.
Fast Flow Rate
The AVRO pump makes manual pumping obsolete with its Fast Flow Rate. It outperforms other electric air pumps which are not designed for inflating kites. Other pumps tend to have a slower flow rate or cannot reach recommended pressure levels. For example a portable tire inflator would take hours to inflate a kite. A mattress electric pump would not reach the desired pressure level needed to safely fly your kite. The AVRO pump on the other hand would take just a few minutes to inflate your kite to the recommended pressure level.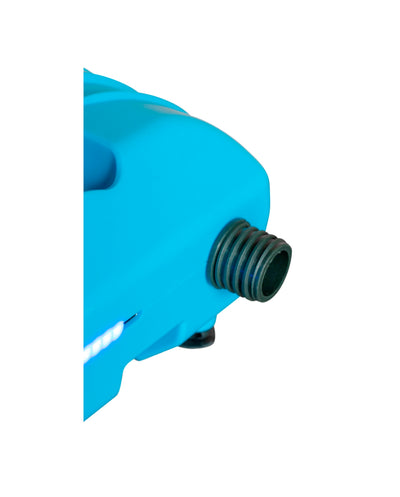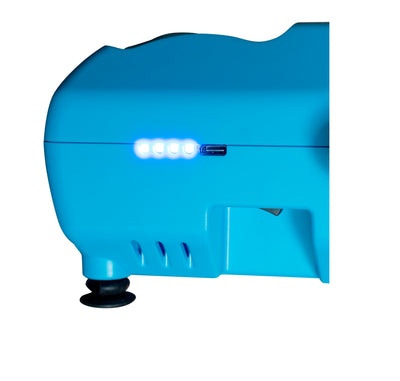 Type-C USB 3.0 Quick Charging
The AVRO pump comes with a fast USB Type-C charging port. This way you can use the provided adapter to fully recharge the battery in 3 hours from an electrical outlet. In addition the USB cord allows you to recharge the battery while you are traveling in your car or draw power from other portable batteries. The LED battery level indicator will show the current battery level. Four blue lights indicate a full battery. One blue light indicates a near empty battery. One blinking light indicates an empty battery which requires charging immediately. While charging, the lights will blink and light up in succession. When the battery is full, all four lights will stop blinking and remain illuminated.
Product Specifications
Pump Dimension
6.9"x 6.0" x 3.7" (17.5 x 15.2 x 9.4 cm)
Pump weight
2.4 pounds (1.1 kg)
Maximum Pressure
16 PSI (1.1 bar)
Automation
Auto-Stop Technology
Total Dimension
(pump & accessories in bag): 8.0" x 7.0" x 5.0" (20.3 x 17.8 x 12.7 cm)
Total Weight
(pump & accessories in bag): 3.0 pounds (1.4 kg)
INCLUDED ITEMS

 AVRO bag serves as a protective barrier to transport the AVRO pump along with its accessories. It prevents sand and water from entering into the pump. Its secondary function is to anchor your kite as it is being inflated. Simply fill the bag with sand or smooth rocks and attach the hook to your kite or rest it on your kite next to the leading edge. Remember to turn your bag inside out to remove sand or rocks and place the AVRO pump back inside to protect it from the sun, sand, rain or snow.

AC Adapter is designed to manage input: 100-240V, 50/60 Hz and can provide an output: 5V-3A, 9V-2A, 12V-2A. It is designed to plug into a type A and type B socket. These sockets are AC wall outlets found in the US, Canada, Japan and Central America. Also included is a USB type-C cord 39.4inches (1 meter) in length.

Lock on valve adapter used for Cabrinha, Core, Duotone (requires red silicone gasket), Eleveight, North, RRD and after 2015 Slingshot kites.

Treaded Boston valve adapter used for Ozone, Ocean Rodeo, Crazyfly, Airush, Switch, Takoon and prior to 2020 Naish kites.

This 7mm/9mm valve adapter is used for most kites prior to 2008 and afterwards by Slingshot. It serves to inflate struts on older kites or miscellaneous inflatables such as an air mattress.

Threaded Large Boston valve adapter used for Blade, Liquid Force and Reedin kites.

Valve adapter used for Core, F-One, Flysurfer and 2020 Naishkites. This valve adapter is also used for inflatable Foil or SUP boards.

 Heavy duty flexible hose with silicone seals to manage high pressures. Threaded ends secure the hose to the AVRO pump and to the valve adapter fittings. The swivel end makes it simple to attach the hose to the pump without having to move the pump's position.
Saving Kiters the Hassle
One AVRO pump at a time!
Simple setup makes the kiting experience a ton better. Compact gear helps you get around easier too. The AVRO pump excels in both so you can leave your big manual pump behind.